« Nick TV Stumbles in Explaining the Middle East to Children | Main | Updated: Lou Dobbs Segment: Saddam's "Errant Missiles" Hit Israel »
July 07, 2005
Terror Strikes London; BBC Forgets Editorial Guidelines
At least 33 people have been killed by simultaneous bombings which struck 3 subway lines and a double decker bus in London. The "Secret Organization group of al Qaeda Organization in Europe" claimed responsibility for the attacks.
We extend our sympathy and condolences to the victims and their families.
BBC.com's morning article on the attacks is headlined "London Rocked by Terror Attacks." The news organization has not similarly described attacks on Israeli buses and nightclubs as "terror." In fact, BBC has methodically avoided using this word when reporting on these attacks, probably as an extention of its editorial guidelines, which state:
The word "terrorist" itself can be a barrier rather than an aid to understanding. We should try to avoid the term, without attribution. We should let other people characterise while we report the facts as we know them.
If BBC purports to be objective, then it must apply its guidelines consistently, whether terrorists operate within its borders or outside.
BBC on London Terror Attacks
BBC on Israel Terror Attacks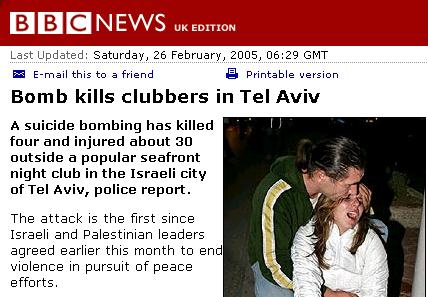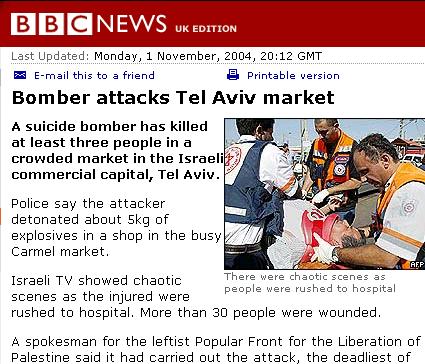 (Hat tip: CAMERA members, Snapshots readers, and Mediacrity blog)
Posted by GI at July 7, 2005 11:33 AM
Comments
Guidelines for posting
This is a moderated blog. We will not post comments that include racism, bigotry, threats, or factually inaccurate material.
Post a comment