« Al Jazeera to Debut in English | Main | Finkelstein's Book Reviewed »
October 31, 2005
College Religion Dept. Confirms Anti-Semitism at Sabeel Conference
A recent item on CAMERA's main Web site discussed the Chicago Tribune public editor's statement that the harshly anti-Israel organization Sabeel does "classy work."
It seems the Department of Philosophy and Religion at Coe College, which recently sponsored a Sabeel conference, may disagree:
To: Rabbi Aaron Sherman and the Congregation of Temple Judah
From: the Dept. of Philosophy and Religion of Coe College [As issued by Prof. John Lemos, Chair] Date: Oct., 21, 2005

Re: The Sabeel Conference

The Dept. of Philosophy and Religion at Coe is aware that some anti-Semitic remarks were made at the recent Sabeel Conference held on our campus and which our department sponsored. We are also aware that here were other breaches of civility during the conference.

Let it be known that the members of our department find anti-Semitism of any kind to be deplorable and inexcusable, and that we also object to uncivil behavior.

...we want to make it clear that our sponsorship of this event should not be taken as an endorsement of the views or attitudes expressed by the speakers.
See the whole letter at Israpundit.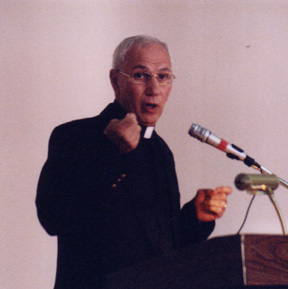 Sabeel founder Naim Ateek
Posted by GI at October 31, 2005 12:53 PM
Comments
Guidelines for posting
This is a moderated blog. We will not post comments that include racism, bigotry, threats, or factually inaccurate material.
Post a comment