« The Washington Post's Odd Language from Syria | Main | Al Jazeera to Debut in English »
October 30, 2005
JTA Exposé: Saudi-Backed Lessons in U.S. Public Schools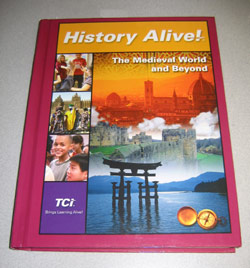 This textbook was pulled from a trial release in Arizona after a series of protests by parents concerned about the spin it put on Christianity, Judaism and Islam.
The Jewish Telegraphic Agency has released a multi-part investigative series about the Saudi government's influence on public education in America. The synopsis:
In thousands of public school districts across the United States, without ever knowing it, taxpayers pay to disseminate pro-Islamic materials that are anti-American, anti-Israel and anti-Jewish.

Often bypassing school boards and nudging aside approved curricula, teaching programs funded by Saudi Arabia make their way into elementary and secondary school classrooms.

These teachings enter school systems with the help of a federal program, Title VI of the Higher Education Act, that is now up for renewal.

Expert analyses of these materials have found them to be full of inaccuracies, bias and proselytizing. They also have found that many of the major history and social studies textbooks used in schools across the country are highly critical of democratic institutions and forgiving of repressive ones.

These materials praise and sometimes promote Islam, but criticize Judaism and Christianity and are filled with false assertions.

Most taxpayers don't know they're paying — at the federal, state and local levels — for the public schools to advance these materials.
Posted by TS at October 30, 2005 04:56 AM
Comments
Guidelines for posting
This is a moderated blog. We will not post comments that include racism, bigotry, threats, or factually inaccurate material.
Post a comment