« Simon and Schuster Changing Its Tune? | Main | Judea Pearl Warns About Al Jazeera English »
January 16, 2007
Christian Leaders Condemn Palestinian Violence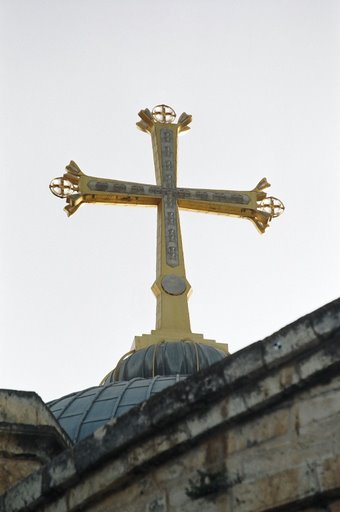 After years of relative silence about the problems in Palestinian society that diminish the prospects for peace with Israel, religious leaders in Jerusalem have called for an end to violence between Fatah and Hamas, two factions that are poised to fight for dominance in the West Bank and Gaza. In a statement issued on Jan. 12, 2007, thirteen Christian leaders called for an end to violence in the West Bank and Gaza and warned against the prospects of a civil war between the factions. They also offered to act as mediators between Fatah and Hamas and called for arms to be taken off the streets.
While it is unrealistic to expect that Christian leaders will be able to act as a mediators in a Muslim-dominated conflict, or to expect that Hamas and Fatah will take their weapons off the street, the statement from Christian leaders comes at time of uncertainty when non-Muslims would have every reason to fade into the background of Palestinian society.
Christians in Palestinian society are a beleaguered minority subject to harassment and intimidation by the Muslim majority. Consequently, they are reluctant to criticize Palestinian leaders about problems in their society that undermine the prospects for peace with Israel. Instead, they broadcast a false moral narrative about the Arab-Israeli conflict to Christian audiences in Europe, North America and Australia. In this narrative, Israel is portrayed as an aggressor nation while the Palestinians are portrayed as innocent Christ-like sufferers who are in no way responsible for violence in the Middle East. This statement is a departure from that narrative.
To be sure, the statement is undercut by the relative silence on the part of the signatories about Palestinian violence against Israel and about Palestinian-on-Palestinian violence, both of which have been problems for years.
The statement is also undercut but the unrealistic and naive assertion that "Fighting and kidnapping opponents will not bring down the Separation Wall or end the embargo on the Palestinian people.� Palestinian terror attacks prompted the construction of the security barrier, and Hamas's rejectionist ideology prompted the international community to withhold aid from the Palestinian Authority.
Nevertheless, Christian criticism of Fatah and Hamas, with nary a word of blame for Israel, offers a mustard seed of hope that Christian leaders, as beleaguered as they are, can hold a mirror to the society in which they live and insist that Palestinian leaders work for the betterment of the society they are called to govern.
Posted by CameraBlog at January 16, 2007 12:17 PM
Comments
Guidelines for posting
This is a moderated blog. We will not post comments that include racism, bigotry, threats, or factually inaccurate material.
Post a comment