« NY Times' Biased Review of the Politicized Opera The Death of Klinghoffer | Main | Hamas Slammed By Amnesty International »
February 09, 2009
Anti-Semitic Attacks In South America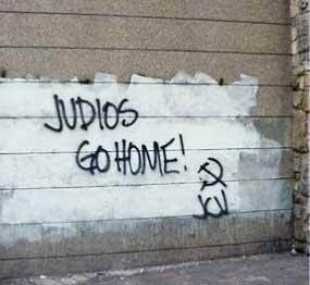 A climate of fear has hit Jewish communities in South America after recent attacks on Jewish targets in response to the war in Gaza.
Jews, particularly in Venezuela, Argentina and Bolivia, are experiencing increasing anti-Semitic onslaughts.
For example:
Jewish leaders said it had never before happened in Venezuela: a break-in with anti-Jewish intent at one of the city's most prominent synagogues. A dozen armed men overpowered guards, spray-painted office walls with anti-Semitic insults, desecrated historic Torah scrolls and made off with computers containing personal information on congregants.
President Hugo Chávez condemned the Jan. 30 attack, which has shaken the country's political establishment. But Jewish leaders, supported by Israeli and U.S. officials, have said the populist government's often incendiary rhetoric toward the Jewish state, coupled with rising anti-Semitic diatribes in pro-government media, has helped foster a climate of intolerance that might have prompted assailants to target the Tiferet Israel synagogue.
And
In Bolivia, where President Evo Morales expelled the Israeli ambassador over the Gaza war, residents have held peaceful protests in several cities. But with the demonstrations have also come troubling signs of anti-Semitism. In the Plaza Israel in the capital of La Paz, for instance, vandals removed a large Star of David from a monument and spray-painted "plaza palestina" on it.
Julio Schlosser, secretary general of the Argentine Israelite Mutual Association states the attacks have created "a climate of worry, a climate of terror."
Unfortunately Schlosser speaks from experience — his association's building was bombed and destroyed in 1994, killing 85 people.
And according to Abraham Foxman, head of the Anti-Defamation League in New York, the anti-Semitic trend "is the worst that we have seen it in all the years."
Foxman succinctly summarizes the attacks on Jews:
There is no longer even an effort to differentiate between criticism of Israel and criticism of the Jewish people.
Read the full article here.
For more information (in Spanish) on anti-Israel and anti-Jewish sentiment in the Spanish-speaking world, see ReVista de Medio Oriente.
Posted by at February 9, 2009 02:53 PM
Comments
Guidelines for posting
This is a moderated blog. We will not post comments that include racism, bigotry, threats, or factually inaccurate material.
Post a comment