« Human Rights Watch's Cobban Not Happy With Garlasco | Main | Traffic Cops or Trained Terrorists? »
September 14, 2009
Cobban on Garlasco Continued
German Combat Awards, along with Wehrmacht-awards, are the two Web sites that Garlasco lamely attempts to pass off as sites that "study Second World War artifacts (including American, British, German, Japanese and Russian items)"
Helena Cobban, an advisory committee member of HRW, continues to express her disgust with the Marc Garlasco Nazi paraphernalia affair.
It is complete garbage highly misleading for Garlasco to suggest that his obsessively pursuit of the "hobby" of collecting -- and lovingly displaying with almost pornographic attention to detail -- various swastika-adorned military memorabilia from the Nazi era in any way makes him a better investigator of current military events.

He claims that, "I've never hidden my hobby." But when I spoke with Iain Levine, who's the head of all HRW's programs and thus Garlasco's supervisor's supervisor, he said he had no inkling that Garlasco had such a hobby "until Tuesday morning."

Garlasco writes,

I deeply regret causing pain and offense with a handful of juvenile and tasteless postings I made on two websites that study Second World War artifacts (including American, British, German, Japanese and Russian items).

The websites in question are titled German Combat Awards and Wehrmacht-awards. From a quick scan through them they don't, actually, seem to cover many non-German items at all.

Also, one of those allegedly "juvenile" postings was presumably this one, made in 2005: "The leather SS jacket makes my blood go cold it is so COOL!� Garlasco was 34 or 35 years old at the time. He'd been working for HRW for two years by then. It was only four years ago.

Hard to make a claim of "youthful indiscretion", based on such facts.
Also, UN Watch uncovers additional Garlasco comments making clear that the collector's passion for his subject goes beyond a historian's academic interest. For instance: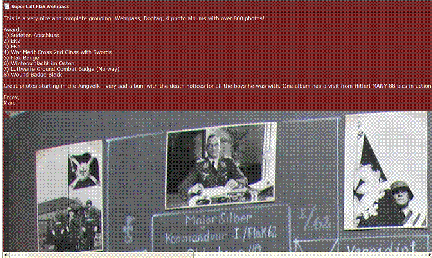 About this and other images, Garlasco, aka "Flak 88," enthused in August 2005:
Great photos starting in the Jungvolk - very sad album with the death notices for all the boys he was with. One album has a visit from Hitler! MANY 88 pics in action. Just a great grouping!
Posted by TS at September 14, 2009 02:33 AM
Comments
Guidelines for posting
This is a moderated blog. We will not post comments that include racism, bigotry, threats, or factually inaccurate material.
Post a comment