« Where's Hamas? | Main | Amnesty Water Report Falsehood #1 »
October 28, 2009
Amnesty's Water Report: Will the Facts Trickle Out?
Yesterday Amnesty International issued a report condemning Israel's water policies and charging the Jewish state with discriminatory practice vis-a-vis allocation to its Palestinian neighbors ("Troubled Waters: Palestinians Denied Fair Access to Water"). The report is based solely on Palestinian sources.
NGO-Monitor, Israel's Foreign MInistry, and the Water Authority have responded, blasting Amnesty for the report's flaws.
CAMERA is reviewing the report and will provide updates as they are available. In the meantime, we were struck by this promotional video for the report, which juxtaposes photographs of sprinklers and swimming pools in Israeli communities with images of barren Palestinian water reservoirs and children carrying water vessels. Yet, there is no shortage of swimming pools in the Palestinian West Bank. As Ha'aretz's Avi Issacharoff wrote on Aug. 8, 2007:
Nowadays, every city in the West Bank has a pool or a recreational complex: Bethlehem has one similar to Al-Khaluf [a clover-leaf-shaped pool in Dura, near Hebron], while Ramallah has more than 10. One of Jenin's swimming champs committed a suicide bombing at Jerusalem's Sbarro restaurant in August 2001. Nablus has a pool reserved for women, and an Olympic pool. Another pool and recreation complex sits between Nablus and Tubas.

Al Khaluf draws more than 2,500 people on an average weekend day, [lifeguard Ahmed] Rajoub says. ("West Bank swimming pools help Palestinians brave the heat")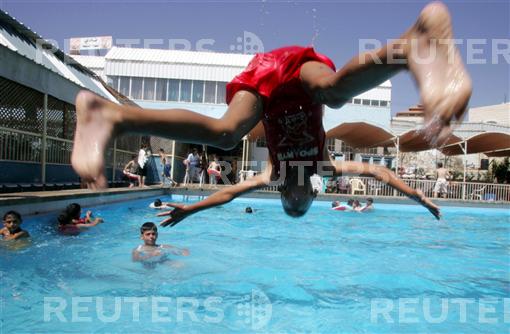 A Palestinian boy jumps into the swimming pool in Hebron (Photo by Nayef Hashlamoun/Reuters)
For more on water issues concerning Israel and the Palestinians, see earlier CAMERA reports here.

Posted by TS at October 28, 2009 07:38 AM
Comments
Guidelines for posting
This is a moderated blog. We will not post comments that include racism, bigotry, threats, or factually inaccurate material.
Post a comment