« Pollster: Ha'aretz Misrepresented Obama Poll | Main | PA Harasses Christian Television Station »
March 24, 2010
Another Day, Another Lousy Ha'aretz Headline
Ha'aretz has a problem with settler-related headlines that fail to match the information in the stories they accompany. Two days ago it was the settler clash that didn't happen.
Today we have: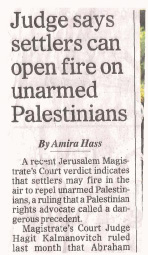 So while the headline claims "Judge says settlers can open fire on unarmed Palestinians," a rather shocking and reprehensible ruling, the first paragraph indicates that the judge ruled that "settlers may fire in the air to repel unarmed Palestinians. . . " Though the merits of the actual ruling could certainly be debated, firing in the air is hardly tantamount to opening fire "on" unarmed Palestinians.
Posted by TS at March 24, 2010 09:17 AM
Comments
Guidelines for posting
This is a moderated blog. We will not post comments that include racism, bigotry, threats, or factually inaccurate material.
Post a comment