« New York Times Fighter vs. Civilian Update | Main | Helen Thomas, Keynote Speaker at Anti-Israel Protests »
April 14, 2011
A BBC Petition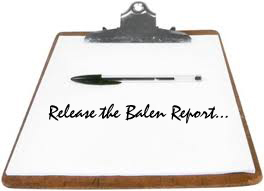 Inspired by Melanie Phillips' open letter to British culture secretary Jeremy Hunt, and CAMERA's video about the BBC's disregard of its editorial guidelines, someone decided to create an online petition asking the BBC to release its Balen Report on BBC coverage of the Arab-Israeli conflict, which the broadcast had commissioned and now hides from the public.
You can read and sign the petition here.
Posted by GI at April 14, 2011 02:15 PM
Comments
yes,the truth should be told
Posted by: melody at April 14, 2011 03:36 PM
BBC is biased against Israel.
Posted by: Alex and Mara Sinayuk at April 17, 2011 09:52 AM
why not open it....what is being hidden and why.?

the truth will set us allfree.....
Posted by: Ruth Siegel at April 17, 2011 11:04 AM
BBC has become a household phrase for bigoted journalism. If that has been your objectives in demonizing Israel and Jews worldwide, then you have reached your goal. Shameful abuse of Areapagetica, the ancient standards of decent and fair writing.
Posted by: Carol and Sol Fineblum at April 17, 2011 11:29 AM
Israel is the victim not the perpetrator of war crimes.
Posted by: Abraham Schneider at April 17, 2011 12:32 PM
As a British subject residing in the USA since 1982 I am thoroughly disgusted about the depths to which the once venerable BBc has sunk. Bias, racism, Anti-Semitism barely describe the inaccurate reporting that passes for News in 2011. I am so pleased that I no longer live in the U.K. and do not have to defend the BBC.
Born and raised in Golders Green and educated at Queen Mary College London I once considered the BBC the Gold Standard of reporting, an institution of which I could be justifiably proud. No anymore. Get some decent unbiased journalists and management and maybe, just maybe you can regain your stature in the world.
Posted by: Jacqui Black at April 17, 2011 12:55 PM
yes,the truth should be told, publicly
Posted by: Rob at April 17, 2011 02:09 PM
What are you afraid of in the publishing of this report?
Posted by: Harold Segal at April 17, 2011 02:40 PM
Posted by: wayne goldstein at April 18, 2011 08:25 AM
The suppression, by a publically-funded body, of a publically-funded report and the use of public funds to suppress should in and of itself be anathema to any freedom-loving person. That applies before we even consider the subject matter of the report.
Posted by: Ian
at April 18, 2011 01:38 PM
Do the right thing, release the report. How bad can it be?
Posted by: Albert Elmaleh at April 19, 2011 12:27 AM
What's with refusing to releasing this report ?? You are only extending your pro PLO bias.
Your even handedness is nowhere to be seen.
Posted by: Jacob Hoffman at April 20, 2011 10:45 AM
It is Public Money that was used for the report and they should be reminded that we, The Public, have a right to see the findings, however embarrassing.
Posted by: david s at April 21, 2011 07:19 PM
If you don't release the report, you must know there's something to hide and be embarassed about: maybe, the truth!!
Posted by: Sarah at April 24, 2011 12:55 PM
I am never surprised when a BBC position finds fault with Israelis or Jews in general. England has a long, sad history of Anti-Semitism. They just prefer to not talk about it as such. But starting from where they start it will always be the Jews who are at fault. In the time of their control of the land the Palestinians had a free hand but the Jews had to be watched.
Posted by: David Perelman at April 30, 2011 02:06 PM
Guidelines for posting
This is a moderated blog. We will not post comments that include racism, bigotry, threats, or factually inaccurate material.
Post a comment