« Ha'aretz Headlines Again Erase Violence | Main | LA Times Remakes Judah Ben-Hur into 'Palestinian Nobleman' »
September 25, 2011
Ha'aretz Fudges Abbas' Democratic Reign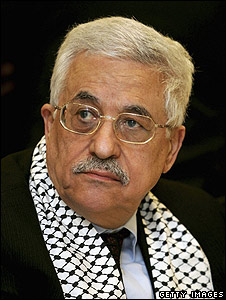 Writing in Ha'aretz today, Amos Harel and Avi Issacharoff bolster Mahmoud Abbas' democratic credentials, setting him up as a foil to "veteran Arab leaders . . . departing from the Middle Eastern scene" and others suspected of serving as agents of Iran (Khaled Meshal and Hassan Nasrallah). They state:
He was elected democratically - even though this happened a long time ago - in 2005, he opposes violence, and does not bend to outside pressure.
That, apparently, is a very kind way of saying that Abbas' term expired in January 2009.
As for Abbas' position regarding violence, his message has been inconsistent. The latest indication that Abbas winks at violence is the PA's appointment of Latifa Abu Hmeid to kick off the official statehood bid campaign.
Posted by TS at September 25, 2011 05:06 AM
Comments
Guidelines for posting
This is a moderated blog. We will not post comments that include racism, bigotry, threats, or factually inaccurate material.
Post a comment