« Church Bureaucrazy About Israel | Main | Open Letter Challenges Ha'aretz on Kfar Sava Hospital Headline »
May 18, 2012
Another Call for Standing by the Facts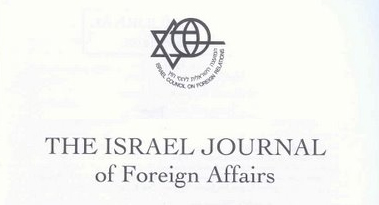 A few days ago, we blogged Michael Oren's call for standing by the facts. The delegitimization of Israel is "perpetuated by journalists who published doctored photos and false Palestinian accounts of Israeli massacres," he said. And so, "along with celebrating our technology, pioneering science and medicine, we need to stand by the facts of our past."
We hear a similar call from researcher Joel Fishman. Writing in the Israel Journal of Foreign Affairs, Fishman states that one
must advance its historical claims aggressively and forcefully. The Jewish State cannot permit others to define its identity or distort its past. It is necessary to discredit the fraudulent claims of the other side and expose its lies.
These pieces provide a timely reminder that standing up for factual accuracy is essential to Israel's well-being. It might be tempting to shy away from the spadework of rebutting lies and distortions about Israel. Indeed, we occasionally hear the argument that it's possible, or even necessary, to avoid that hard work. Proponents of that view insist that we need not or should not confront those who delegitimize Israel on campus and beyond. They suggest we give up the public square to anti-Israel activists. And if those activists bring the confrontation to pro-Israel students and speakers, it might be best to retreat.
Whether intentionally or not, Oren and Fishman's calls read like a direct — and needed — response to those arguments.
Posted by GI at May 18, 2012 12:56 PM
Comments
Posted by: Sean DeGan at May 18, 2012 05:41 PM
Remember after the Jenin massacre was proven to be a lie.
The Palestinians were going to cemetaries and digging up bodies and talking how they were killed in Jenin. The greatest example of Pallywood, was the Palestinians having fake funerals staged for the media to believe they were killed by Israel in Jenin. Watch this video of a supposedly dead Palestinian the PLO said was killed in Jenin until the "corpse� falls off and magically regains consciousness. A definite contender for Best Pallywood Video of the Year Award.
http://www.youtube.com/watch?v=pgQLGYb9Xfo
Posted by: Ed Frias at May 18, 2012 11:31 PM
Guidelines for posting
This is a moderated blog. We will not post comments that include racism, bigotry, threats, or factually inaccurate material.
Post a comment