« More Artists Call Out BDS Bullying | Main | Updated: LA Times' Tent Tales »
January 15, 2013
UPDATED: Facebook Closes Khaled Abu Toameh's Account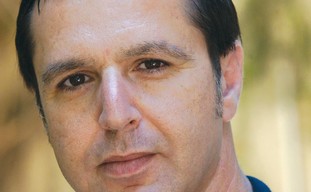 Khaled Abu Toameh reports he has been bombarded with hate mail and threats, and his Facebook account was closed (Photo by Ariel Jerozolimski)
UPDATE: Khaled Abu Toameh reports that his Facebook account has been reactivated, but that his posts about PA corruption have been deleted. (Jan. 15, 2013, 12:45 p.m.)
UPDATE 2: Facebook apologizes to Abu Toameh for the deleted article on Palestinian corruption, calling it an employee's error. (Jan. 16, 2013, 6:10 a.m. EST)
Jerusalem Post journalist Khaled Abu Toameh has informed us that Facebook has closed his account, apparently in response to complaints concerning articles he posted, including "The Palestinian Authority's Inconvenient Truths," as well as Jordanian article criticizing corruption in that country.
Abu Toameh, who has spoken at CAMERA events, reports; "In the past few days I have been bombarded with dozens of hate and threat messages because of the these postings and articles. Some anti-Israel folks in the UK are now publishing my photo with a Star of David on my forehead."
What are Facebook's criteria for closing an account? As he notes, Hamas and members of other terrorist groups continue to operate accounts. Abu Toameh has not yet received an answer from Facebook. Contact Facebook for clarification: why was Khaled Abu Toameh's account closed?
Posted by TS at January 15, 2013 05:47 AM
Comments
This has been reversed. The account is opened.
Posted by: Buck at January 15, 2013 12:37 PM
Why was Khaled Abu Toameh's account closed?
Posted by: Michael Wollman at January 17, 2013 05:51 PM
Facebook is open! G-d Bless you Khaled, G-d BLESS YOU !!!!
Posted by: xxxxx at February 4, 2013 03:32 PM
Khaled Abu Toameh is an intelligent and well spoken person. he is a great role model for all young(and old)Arabs. with education and the insight he has would go a long way to settleing the peace issue. it was my please to meet him and spend time with him. I wish more people like him would come forward and speak out.
Posted by: michael nissman at May 20, 2014 10:26 AM
Guidelines for posting
This is a moderated blog. We will not post comments that include racism, bigotry, threats, or factually inaccurate material.
Post a comment