« Tearing off the Mask | Main | The ABC's of a Misleading News Brief »
January 23, 2013
Guess What? Israeli Democracy Alive and Well
The news media, led by The New York Times, have been sounding the death knell for Israeli democracy in the run-up to the recent elections. Of particular concern to The Times, USA Today, Public Radio International, The Economist, The Daily Beast and other outlets was the possibility that voter turnout among Israeli Arabs would fall below 50 percent.
In fact, this is not what happened in the Israeli elections at all.
According to Ha'aretz, though voter turnout across the country was almost 67 percent:
In [the Israeli Arab city of] Tira, the picture was the complete opposite: voter turnout was only 58.8 percent, similar to the rest of the Arab cities. Incidentally, the city of Sakhnin stood out with a voter turnout of almost 80 percent.
Only 58.8 percent. Not below fifty. Not even close. But, only 58.8 percent. Only.
For comparison, the Center for the Study of the American Electorate reported that, in the 2012 U.S. presidential election, voter turnout among all Americans eligible to vote was… 57.5 percent.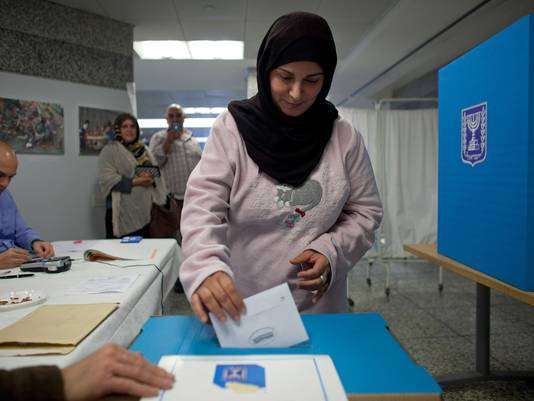 An Israeli Arab woman casts her vote during the Israeli General Election on Tuesday in Tel Aviv.
(Photo: Uriel Sinai, Getty Images)
Posted by SC at January 23, 2013 11:13 AM
Comments
Guidelines for posting
This is a moderated blog. We will not post comments that include racism, bigotry, threats, or factually inaccurate material.
Post a comment