« NYT Says Israel Lied About Iran Sanctions, But Experts and Insiders Support Claim | Main | CNN's Amanpour Smears Israel at Mandela Memorial Service »
December 18, 2013
Ha'aretz Headline Fail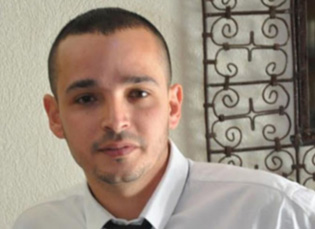 Master Sgt. Shlomi Cohen, killed Sunday
In a prominent page 2 headline in Ha'aretz's English print edition today, the claim of a Lebanese soldier who killed IDF soldier Shlomi Cohen Sunday is upgraded to fact. During his interrogation with the Lebanese military, the Lebanese soldier claimed that he shot a suspicious figure near the border fence. As the accompanying article, by Jack Khoury, reported:
The soldier said he opened fire after he identified a suspicious figure only a few meters from the border fence, according to Lebanese security sources. He said the person was making suspicions movements and, being far away from his commanders, he decided on his own volition to open fire at Cohen.

The Lebanese soldier's version of the events was made available to Israel by UNIFIL, during a meeting between the two sides at the UN organization's headquarters in Ras Nakura, southern Lebanon, on Tuesday, Lebanese newspaper Al Nahar reported.
And yet, the soldier's claim is misrepresented as fact in the print headline:
In contrast, the online editions, both English and Hebrew, got it right, identifying the Lebanese soldier's claim as just that:


Which means (CAMERA's translation):
Lebanese soldier who killed the IDF soldier: I fired because he approached the border

Sources in Lebanon reported that the shooter said he was far from his commanders and therefore decided on his own to shoot. It is still not clear if steps will be taken against him
Posted by TS at December 18, 2013 03:45 AM
Comments
Guidelines for posting
This is a moderated blog. We will not post comments that include racism, bigotry, threats, or factually inaccurate material.
Post a comment