« Where's the Coverage? Gaza Sniper Sought Medical Treatment in Israel to Improve Sniping Ability | Main | Where's the Coverage? War Looms in Gaza »
January 24, 2014
Angela Davis Uses MLK Day Speech to Defame Israel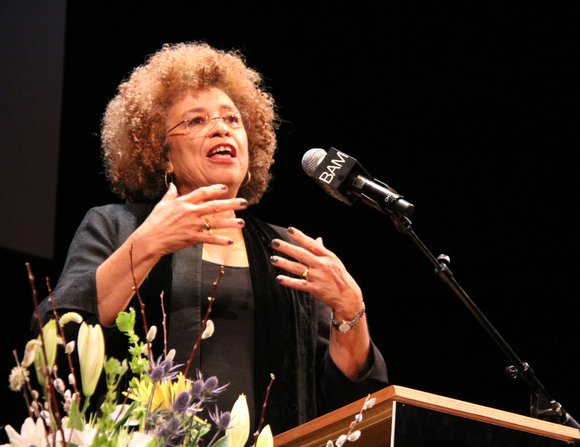 Angela Davis, once associated with the Black Panther Party, gave the keynote address for the 28th annual celebration of the Rev. Martin Luther King Jr. at the Brooklyn Academy of Music. In attendance were newly elected New York City Mayor Bill de Blasio and first lady Chirlane McCray, Brooklyn Congressman Hakeem Jeffries, and Brooklyn Borough President Eric Adams. Also present according to the Amsterdam News was Police Commissioner Bill Bratton.
Davis gained notoriety and icon status among many on the far left in 1970 because she had purchased the weapons used in a courtroom hostage-taking incident that resulted in the deaths of a judge and three black convicts and serious injuries to several female hostages. She traveled to Cuba and later became a Vice-Presidential candidate for the Communist Party of the United States. She was a Professor of the History of Consciousness and Feminist Studies at the University of California at Santa Cruz for many years and is now a distinguished Professor Emerita.
Davis is an outspoken advocate of the Boycott, Divestment and Sanctions campaign against Israel. Toward the end of her address to the students, Davis offered some comments about Israel:
So it should be pointed out that countries like Israel use carceral technologies developed by the prison industrial complex not only to control the thousands of Palestinians and prisoners behind bars, but also to control the everyday lives of Palestinians who live on the West Bank and in Gaza and inside Israel. These carceral technologies, separation walls for example, are material constructs of Israeli apartheid.
Posted by SS at January 24, 2014 03:32 PM
Comments
I wrote to the NY POST whose columnist had referred to ms Davis' comments. I compared her comments to MLK' s March '68 comments about Zionism and antisemitism. The Post did not print my letter.
Posted by: richard Sherman at January 30, 2014 09:32 AM
Bloomberg and Markowitz (Boro President) would never have attended this hatefest.
Is this what New Yorkers have to look forward to under the DeBlasio-Adams regime?
Posted by: Arthur Yevin at January 30, 2014 04:30 PM
Those close to de Blasio make it clear that NYC has a new mayor. The more is the pity.
Posted by: Harry at January 30, 2014 11:41 PM
I was outraged that DeBlasio, Schumer and the others did not condemn Davis' comments. They are allegedly friends of Israel but sat silently on the same dais as this hater. I sent the story to the Jewish Week, Jewish Press and others. No response. The NY Jewish Community Relations Counsel listened but did not make a public issue. Truly shameful.
Posted by: Ben at February 14, 2014 01:00 PM
Guidelines for posting
This is a moderated blog. We will not post comments that include racism, bigotry, threats, or factually inaccurate material.
Post a comment