« Abbas Plays Along With Erdogan's Ottoman Fantasies | Main | Where Was MSNBC's Interception of Intercept's Jeremy Scahill? »
January 14, 2015
UPDATED: Seek and You Shall Find: Bias in Europe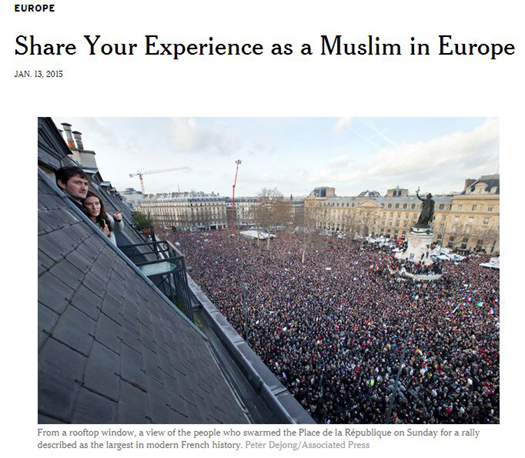 Update follows letter.
Responding to a New York Times call to European Muslims, to share their experiences, and specifically incidents of anti-Muslim bias, Dr. John Cohn, CAMERA's 2003 Letter-Writer of the Year, wrote to Margaret Sullivan, the paper's public editor:
Dear Ms. Sullivan,

While on the Times website I came across the following pages, with the caption, "Share your experiences as a Muslim in Europe, The New York Times would like to hear from Europeans, particularly Muslims, about their experiences." The link took me to a page with preloaded questions, such as:

What types of anti-Muslim bias, if any, have you experienced or witnessed in your daily life?
If you are Muslim, how comfortable are you practicing Islam in Europe?
In the aftermath of the attacks, how might your life change, if at all?

This led me to wonder if the Times had similarly solicited information from Christians in Saudi Arabia, Syria, or Iraq, or gays, women or Christians in Gaza. Has it?

There are, of course, no Jews to query in those places, but you could ask Israeli Christians how they are doing in the only Middle Eastern country with a growing Christian population compared to their co-religionists in neighboring Arab states... Likewise, at this time of trouble, I would think you would be soliciting the concerns of all Europeans, Christians, Muslims, Jews, agnostics and atheists.

Similarly, I was struck that your paper asked, "What types of anti-Muslim bias, if any, have you experienced or witnessed". I think the lawyers call that a leading question.

In the memory of some Times readers, 6 million Jews were murdered by Europeans. And it was the synagogues of Paris, not the mosques that closed last weekend from fear of violence. I will not defend anti-Muslim bigotry, nor do I want to suggest some universal Islamic responsibility for acts of violence claimed by the perpetrators to be in the name of Islam, but who has the most to fear?

Or does that not lead to the story your reporters have already decided to write?

John R. Cohn
Update: The newspaper subsequently changed the questionnaire to include all Europeans and their experiences, as opposed to seeking out Muslims and examples of anti-Muslim bigotry specifically.
Jan. 18 Correction: The writer's letter originally erred in stating that there are no Jews in Iran.
Posted by TS at January 14, 2015 06:25 AM
Comments
Guidelines for posting
This is a moderated blog. We will not post comments that include racism, bigotry, threats, or factually inaccurate material.
Post a comment