« Follow Up, AP Correction on Pope's Disputed "Angel of Peace" Comment | Main | Former Secretary of Defense Robert Gates Echoes Netanyahu on Iran Negotiations »
May 19, 2015
Haaretz Errs on Arabic-Speaking Saints
In an article about the recent canonization of two Arab nuns from the Holy Land, Mariam Baouardy and Marie Alphonsine Danil Ghattas, Haaretz errs ("Pope to canonize two Palestinian nuns"): "They will be the first Arabic-speaking saints . . . "
As The Washington Post has made clear in a prominently placed correction, there are at least three other Arabic-speaking saints.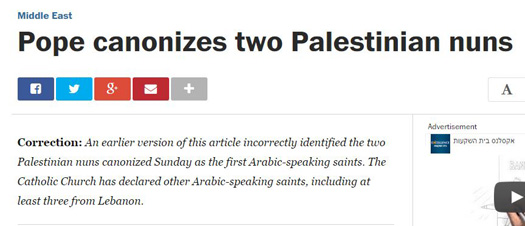 One of them St. Charbel Makhlouf, a Maronite Catholic priest, born Yussef Antoun Makhlouf in Lebanon in 1828. "He was canonized in 1977 by Pope Paul VI, who had earlier hailed the Lebanese Maronite saint as an 'admirable flower of sanctity blooming on the stem of the ancient monastic traditions of the East,'" Catholic News Agency reported.
On a related matter, stay tuned for a detailed CAMERA post on how the media identifies the two nuns as Palestinian, though they likely did not identify as such.
May 20 Update: Haaretz Commendably Corrects
Haaretz editors have commendably removed the erroneous claim that the two women are the first-Arabic speaking saints, and the following correction is appended to the bottom of the article:
Posted by TS at May 19, 2015 05:37 AM
Comments
Guidelines for posting
This is a moderated blog. We will not post comments that include racism, bigotry, threats, or factually inaccurate material.
Post a comment