« New York Times: 'Violent Loop' Responsible for Palestinian Attacks | Main | Phila. Inquirer Headlines Go Easy on Attackers »
November 11, 2015
Palestinian T.V. Favorite Accuses Israel of 'Harvesting' Terrorists' Organs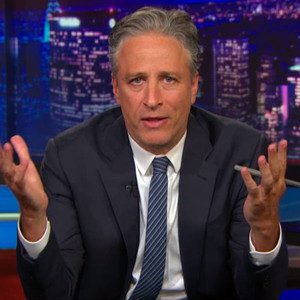 Jon Stewart gave Riyad Mansour a platform on Comedy Central
Riyad Mansour is a Palestinian Authority (PA) diplomat who has served as the Permanent Observer of Palestine to the United Nations since 2005. A regular news media source, he has appeared, both in print and in studio, so frequently that he has his own page on IMDB, a noted online film and television database. He is also the latest in a long-line of antisemites, to push the most recent incarnation of the blood libel, accusing the Israeli government of harvesting organs of terrorists slain while attempting to murder Jews.
On Nov. 3, 2015, Mansour sent a letter to the current president of the U.N. Security Council, British Ambassador Matthew Rycroft. The PA official wrote:
"After returning the seized bodies of Palestinians killed by the occupying forces through October, and following medical examinations, it has been reported that the bodies were returned with missing corneas and other organs.�
Reuters reported that Mansour also told Rycroft that this was confirmation of "past reports about organ harvesting� ("Israel blasts Palestinians after accusations of organ-harvesting,� Nov. 4, 2015).
Like other recent parallel claims by Palestinian Arab leaders, this is false. In its mendacity it echoes the recent claim by PA President Mahmoud Abbas that Israel "executed� a 13-year old boy, Ahmed Manasra. In fact—while Abbas spoke this lie—Manasra was being treated in an Israeli hospital for injuries sustained from being hit by a car while fleeing after he and his cousin stabbed and nearly murdered a 13-year-old Jewish child.
Israel's Ambassador to the United Nations, Danny Danon, said the PA letter is a "blood libel by the Palestinian representative that exposes his anti-Semitic motives and his true colors.�
The early blood libel was the false accusation that Jews murdered Gentile children to use their blood for religious purposes. Born in medieval Europe, the libel, taking various forms, has been used repeatedly in Arab media as CAMERA has noted ("The Global Blood Libel against Israel,� March 23, 2012). Historically the dissemination of blood libels often has been followed by murders of Jews, often in large numbers.
Danon called on the United Nations to "repudiate this sinister accusation and to condemn the ongoing incitement by Palestinian leaders.�
Nevertheless, Mansour seems to be a media favorite.
As the PA representative to the United Nations, Mansour frequently has been quoted as a credible source, which has treated his breathless but unfounded serial allegations of Israeli war crimes as credible (see for example "Palestinians move to join world court,� The Boston Globe, Jan. 3, 2015 or "Netanyahu at Risk of Isolating Israel,� The New York Times, March 19, 2015). One Washington Post article expended nearly 700 words repeating nearly verbatim Mansour's charges ("U.N. Envoy Critical of Gaza Living Conditions,� Feb. 27, 2008).
Mansour even has been quoted uncritically saying that a failure to pursue trumped-up PA charges of Israeli war crimes is "what is impeding the peace process� ("Furor Sends Palestinians Into Shift on U.N. Report,� The New York Times, Oct. 8, 2009).
Mansour often has spoken to reporters about PA desires for greater U.N. involvement, including expressing his gratitude to U.N. Secretary General Ban Ki-Moon for "quickly� forwarding the PA representative's request for membership in the international organization ("Israeli panel drafts $8b social plan,� The New York Times, Sep. 27, 2011).
This blood-libel pusher has a media presence that extends into prime time, including appearances on Sunday talk shows like NBC's Meet the Press and the "comedy-news� show, The Daily Show with Jon Stewart ("Who wants to be a member of the U.N.? Palestine"). On the latter, interviewer John Oliver, treated Mansour's presence humorously.
There is nothing funny about blood-libels. Historically they have resulted in Jewish blood being spilled. Today, invoked against Israel, they help incite sometimes murderous aggression. When it comes to looking for credible sources on the Arab-Israel conflict, media outlets would be well advised to tune out Riyad Mansour.
Palestinian Media Watch, a non-profit Palestinian media monitoring organization, compiled a report on Palestinian leaders' use of the blood-libel that can be found here.
Posted by SD at November 11, 2015 10:31 AM
Comments
Posted by: Barry Meridian at November 11, 2015 11:42 AM
Guidelines for posting
This is a moderated blog. We will not post comments that include racism, bigotry, threats, or factually inaccurate material.
Post a comment