« Analyst: Palestinian Leadership Behind 'Spontaneous' Attacks | Main | Updated, Dec. 3: Reuters Corrects Role Reversing Headline »
December 02, 2015
'Moderate' Palestinian Leaders Encourage Shedding Tears for Terrorists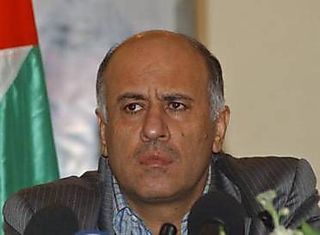 Jibril Rajoub

A Palestinian Authority (PA) official has claimed that Palestinian Arab women cry with "joy� upon receiving news of their children's deaths as terrorists.
Haifa Al-Agha, who serves as the PA's Minister of Women's Affairs, praised Palestinian women for being happy when their sons die while attempting to murder Jews.
According to Palestinian Media Watch (PMW), a non-profit organization that monitors Arab communications and educational media in the Gaza Strip, West Bank (Judea and Samaria) and eastern Jerusalem, Al-Agha made remarks to this effect as repeated by Al-Hayat Al-Jadida, a Palestinian Authority daily, on Nov. 7, 2015. In a video of the statement, the PA minister, "noted the Palestinian woman's uniqueness, which differentiates her from the women of the world, as [only] she receives the news of her son's martyrdom with cries of joy.�
Al-Hayat Al-Jadida reports Al-Agha added that "Palestinian girls and women have proven their ability to contribute to their homeland, and that they have a significant presence in the field and battle arenas.�
The PA minister's remarks were made amid more than two months of ongoing Palestinian terror attacks using guns, knives, meat cleavers and cars among other weapons, targeting Israelis, civilians, police and soldiers alike. As CAMERA has noted, Middle East analyst Jonathan Halevi of the Jerusalem Center for Public Affairs has alleged that Palestinian leaders have helped to "orchestrate� these attacks (Dec. 1, 2015, "Analyst: Palestinian Leadership Behind "Spontaneous� Attacks�).
PMW has documented other recent PA celebrations of terrorist operations:
"In keeping with PA policy of honoring terrorists and promoting them as heroes and role models, official PA school the Al-Rashideen High School for Boys, held a tennis tournament named after terrorists Basel and Farouq Sidr who recently attempted to murder Israelis. Several teams in the tournament were also named after terrorists who either murdered or attempted to murder Israelis in the last two months.�
PMW has also noted that Jibril Rajoub, head of the Supreme Council for Sport and Youth Affairs and longshot successor to PA President Mahmoud Abbas, expressed support for the current terror attacks. Rajoub said they are "acts of bravery, I am proud of them [terrorists].�
Abbas himself has refused to condemn any of the murders of Israelis that have taken place since September. The PA president announced on state-run TV on November 16 that the attacks against civilians are in fact, a "peaceful uprising.�
PMW notes that Abbas admitted to calling for terror attacks: "We said to everyone that we want peaceful popular uprising, and that's what this is. That's what this is.�
The PA has received considerable international aid, despite documented cases of corruption and embezzlement, in part for promises that it would work towards peace with Israel. It is frequently referred to as "moderate� by many journalists and policymakers.
Celebrating terrorist attacks with tears of joy, sports, songs and poems may make Palestinian political culture "unique� as al-Agaha says. If so, not uniquely peaceable.
Posted by SD at December 2, 2015 03:53 PM
Comments
Thank you for reminding us there are genuine moderate Muslims or some issues they stand rational upon. We can not abandon the hope they can become more influential. Let us hope knives drenched in blood will stop getting all the attention, and empowered by the liberals in the West to publish false narratives.
Posted by: jeb at December 5, 2015 06:05 PM
Guidelines for posting
This is a moderated blog. We will not post comments that include racism, bigotry, threats, or factually inaccurate material.
Post a comment