« LA Times Replaces Solid AP Headline With Biased Headline | Main | AFP Calls Eastern Jerusalem Palestinian Territory »
April 23, 2018
Poll: Majority of Palestinians Fear Their Own Government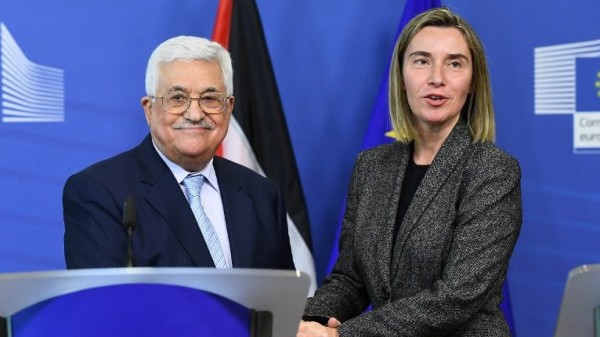 PA President Mahmoud Abbas and European Union Foreign Minister Federica Mogherini

A majority of Palestinians living in the West Bank (Judea and Samaria) fear the Palestinian Authority (PA), according to a poll by the Palestinian Center for Policy and Survey (PSR). The PA, dominated by the Fatah movement, rules the West Bank and is a major recipient of U.S. and international aid.
The PSR survey was published on March 27, 2018. It noted that 65 percent of Palestinians answered "no� when asked if "people in the West Bank today [can] criticize the authority without fear.� The answers to other poll questions led PSR to conclude that "a shadow of pessimism, frustration, and despair� has left the Palestinian public "with no trust in its leadership and very little optimism about the medium or even the long-term future.�
Nearly two-thirds of Palestinians polled believe that the PA security services eavesdrop on phone calls of citizens and "more than 60% believe that such eavesdropping is done illegally and without any just cause.� This finding comes after accusations by a former Palestinian intelligence head that PA President Mahmoud Abbas setup an electronic surveillance unit in mid-2014 to monitor political opponents and critics ("Abbas' government sued over alleged CIA-backed wiretapping,� Feb. 6, 2018, Associated Press).
Indeed, dissatisfaction with Abbas is extremely high, according to the poll, which noted that 68 percent of the public demand that the octogenarian ruler—who is currently in the thirteenth year of a four-year term—resign. Abbas also controls the Fatah movement and the Palestine Liberation Organization. As CAMERA has detailed, he has become increasingly autocratic in recent years; suppressing dissent, imprisoning journalists and consolidating complete control over the entities that he leads (see, for example "The Growing Autocracy of the Palestinian Authority,� Oct. 7, 2017, The Times of Israel).
Abbas has refused to hold elections—and perhaps for good reason. According to the PSR survey, if an election were held, Ismail Haniyeh, a top leader of Fatah's rival, Hamas, would defeat Abbas. Similarly, Fatah's Marwan Barghouti, a younger Palestinian leader and rival, would also defeat Abbas. Barghouti is imprisoned in Israel for carrying out several terror attacks during the Second Intifada (2000-05).
Although Abbas is unpopular—a mere 33 percent said that they were satisfied with his performance—the Fatah movement is slightly (36 percent) more popular than Hamas (31 percent). A minority of Palestinians (23 percent) said, "Palestinian democracy is good or very good.� By contrast, a majority (57 percent) said, "democracy in Israeli is good or very good.�
The PA itself is extremely unpopular. PSR reported: "Perception of corruption in PA institutions stands at 78% and a majority of 52% views the PA as a burden on the Palestinian people while 41% view it as an asset for the Palestinian people.�
The survey also showed that 48 percent of Palestinians polled in the West Bank and the Gaza Strip support "an armed intifada� (violent uprising) against Israel. PSR elaborated:
"When given three options to choose from, the largest percentage (35%) chose armed resistance as the most effective means of establishing a Palestinian state next to the state of Israel while 31% chose negotiation and 25% chose non- violent resistance effective. Three months ago, 44% indicated that armed resistance is the answer and 27% sided with negotiation. When the public is asked if it supports each of the following the responses were different: 74% support joining more international organizations; 63% support popular non-violence; 48% support a return to an armed intifada; and 49% support dissolving the PA. Support for a return to an armed intifada is higher in the Gaza Strip (67%) compared to the West Bank (39%), in cities and refugee camps (51% and 49% respectively) compared to villages/towns (34%), among the religious (55%) compared to the somewhat religious and the non-religious (43% each), among those who are opposed to the peace process (74%) compared to supporters of the peace process (34%), among men (52%) compared to women (45%), among those whose age is between 18 and 22 (58%) compared to those whose age is 50 years or above (48%), among Hamas supporters (74%) compared to supports of Fatah and third parties (36% and 42% respectively), among students (70%) compared to housewives and laborers (43% and 45% respectively), and among holders of BA degree (54%) compared to holder of elementary education and the illiterates (35% and 48% respectively).�
The public opinion poll was conducted from March 14-17, 2018 and used a sample size of 1200 adults that were interviewed face to face in 120 randomly selected locations. The survey has a margin of error of three percent. PSR's survey can be found here.
Posted by SD at April 23, 2018 02:39 PM
Comments
Guidelines for posting
This is a moderated blog. We will not post comments that include racism, bigotry, threats, or factually inaccurate material.
Post a comment